Good luck to Max and Robert in Portugal
Best of luck to WHSC members Robert Jephson and Max Sweetman, currently competing in their 420 in the Junior European Championships from July 19 to July 26 in the inclement heat of Vilamoura Portugal. Have fun and drink lots of water!
A belated big congratulations to Max, who competed in the Feva National Championships in the Royal Irish Yacht club earlier in July. Together with his helm Mathew Colton from RIYC, they came second in the silver Fleet and 9th overall. Well done Max, you're doing your club proud across several fleets.
Volvo Cork week
Congratulations to all WHSC sailors who competed in Volvo Cork week, especially Shane Statham and the crew of Slack Alice, who came third in the White Sails fleet, in a class of 19 boats.
In the 1720 fleet of 40 boats, WHSC's Rob McConnell performed consistently in a very competitive 11 races. Light winds meant very tactical sailing was called for all week. Flyover also sailed very well representing WHSC. It was fantastic to see almost 200 boats going out into Cork Harbour every day.
WHSC Topper sailors off to Lake Garda
Good luck to the Topper crew heading to Lake Garda to compete in the World Championships from July 25 to 29.
First Kayaks and Paddlers outing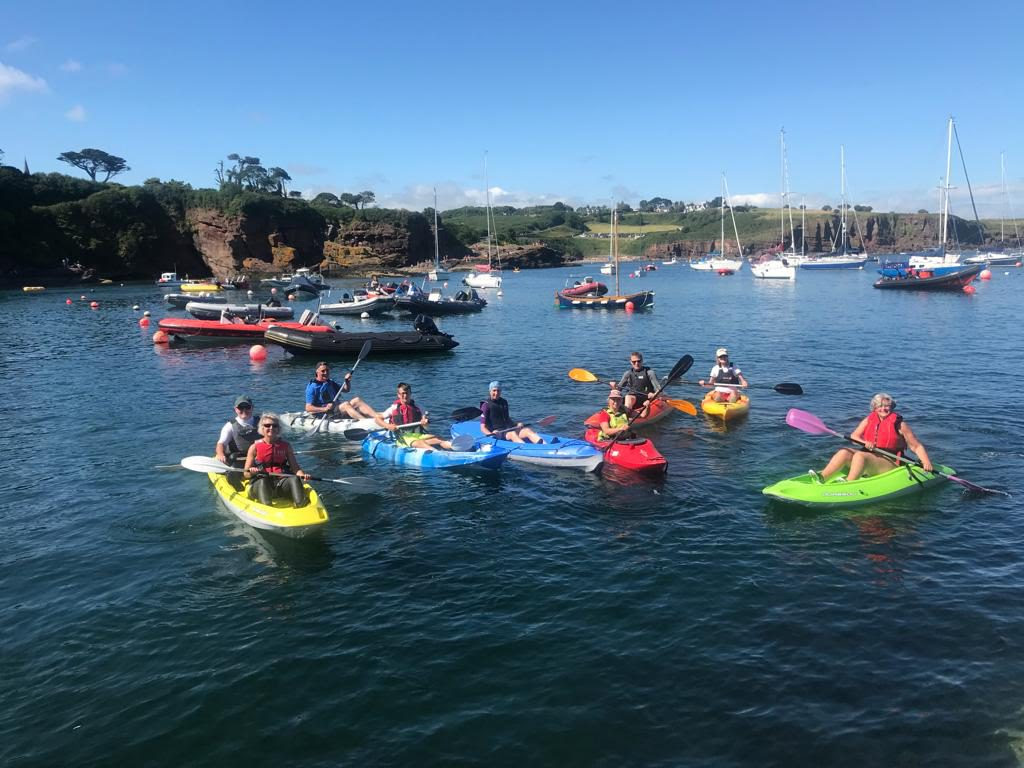 Many thanks to Shannon Kavanagh and Maeve for hosting our first and hugely successful kayaks and paddlers outing of 2022 last Saturday, around the coves of Dunmore East. It's great to be able to offer a range of options for people who want to get out on the water – with or without sails. If you're interested in joining the group and staying up to date with future trips, please email prwhsc@gmail.com.
Optimist news
Update from the Optimist fleet: We were delighted to see seven of our Oppie sailors go to the Connaught Championships at Galway Bay Sailing Club on July 9 and 10. Sailing in Galway is a different sport, usually having to contend with lots of wind and rain. Our hosts kindly organised lighter weather and glorious sunshine — so nice, in fact, that racing had to be abandoned in the end on Sunday due to zero wind.

WHSC was represented in three fleets each of which completed four races on Saturday. Well done to all of the sailors. Overall we had three sailors within the top 10 in their category. Our two Regatta sailors built on their experience and were most comfortable sailing in their second ever event.

The adults saw the Galway sights, enjoyed beautiful walks and warm swims in the Atlantic while the kids were on the water. Everyone, adults and children alike made some friends and renewed old acquaintances both on and off the water. (Thanks to Oppie parent Mary Doolan for the comprehensive update.)
South East Optimist Regatta cancelled
The planned one day Optimist Regatta on July 24th has been cancelled due to low numbers registering. Thanks to everyone who got involved in organising and the more than 30 who volunteered to help out in the event. And don't worry – there will be plenty more opportunities to help out, including during the Oppie Club Championship on August 20 and 21. There will be 3 fleet sailing (Regatta, Junior & Senior) in the championships. More details to follow from Oppie Captain Nicola Harris.
Welcome to WHSC, Tres Hombres
Did you spot the pirate ship in the harbour this week (see below)? We'd like to wish a warm welcome to Dunmore East to the skipper and crew of the spectacular Tres Hombres brigantine, a unique engineless sailing cargo vessel. This Pirate of the Caribbean sails around the world with no engine transporting cargo, circumventing the shipping crisis and minding the planet, including to the Caribbean in winter where it leaves with its belly full of rum. The crew of volunteers from all over Europe, US and South Africa docked in Dunmore East for a few days before setting sail with a cargo of Irish beer for France. Bon voyage.
Tramore Bay Race in aid of RNLI
The Tramore Bay Race in aid of the RNLI is scheduled for next Sunday, the 24th July. This always popular event will be supported by the Ritz Bar, who will be serving food and refreshments during the afternoon for all members. All Cruisers, RIBs and cars are welcome – it's always a great event. We're watching the weather forecast and will update you if there are any changes.
Have you signed up to host a barbecue?
We're inviting all members to get together with your family or friends and volunteer to man and woman the barbecue for one of the Sundays during the rest of the season. You can sign up at the bar or by putting your name on the blackboard.
Sail Training Ireland Opportunities for young people
A number of bursary opportunities have been made available to young people aged between 15 and 30 (and during August for 14-17 year olds) from the Waterford area to take part in a sail training voyage on the Brian Boru from Dun Laoghaire to Waterford, between July 25 and 29. The cost is €195. The young people will get to experience all aspects of sailing the ship under supervision of the professional crew. Local community groups and organisations are invited to nominate individuals who would benefit from the experience. This voyage is heavily subsidised through Port of Waterford and Waterford City & County Council and is open to young people from the Waterford Area only. There will be a further opportunity for slightly younger sailors aged 14 to 17 during the first week in August. For more information on either voyage see: https://www.sailtrainingireland.com/voyages/
New book: Waterford's Maritime World
Copies of Waterford's Maritime World are now available. It is on sale in the Book Centre in Waterford and in all good bookshops locally and Nationally.
"Waterford's Maritime World: The ledger of Walter Butler, 1750-1757 by John Mannion

In October 1750 Walter Butler, a Waterford sea captain, purchased a ship in the port of Bordeaux and had it refitted there before loading it with wine, brandy and other French produce for his home port. Renamed the Catherine after his wife, the ship spent the winter in Waterford where Butler and his men prepared for a voyage to Newfoundland. She departed for the fishery in April 1751 with "passengers" (seasonal migrants) and salt provisions, returning home in the fall. Over the next six years The Catherine completed three more round trips to Newfoundland and voyages to London, Tenby, Dublin, Cork, Lisbon, Cadiz and Seville. The brig was captured off St. Lucar by a French privateer in spring, 1757. Butler's account of the Catherine survives (Prize Papers, High Court of Admiralty). The ledger contains the most detailed description of a Waterford ship, shipmaster and crew for the eighteenth century. It is a record of everyday economic exchanges with merchants, traders, artisans and labourers in Waterford city and in the ports and fishing harbours visited by the Catherine overseas, in England, Wales, France, Iberia and in faraway Newfoundland…."
Hardback. 288 pages. Ills. €45.00
If a number of members are interesting in purchasing a copy, please email prwhsc@gmail.com as we have been offered a discount on multiple purchases.
Got something for inclusion in the newsletter? Email prwhsc@gmail.com
Filed under: 1720, Events, Member News, News, Optimists, Paddlers